Climbing Mount Sill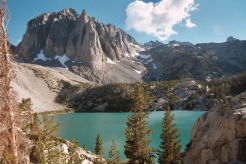 This was a 3-day backpacking and climbing expedition to the North Fork Big Pine Creek area of eastern Sierra Nevada, on July 23-25 of 2004. My partner Vladimir Ulyashin successfully climbed Mount Sill, 14153 ft./4314m, while I reached a point 900 feet below the summit on the north face. Mount Sill has been a long-standing goal of mine because it is the 6th highest peak in California and 4th highest in the Sierra Nevada Range. It requires easier climbing than North Palisade (no. 3 in the Sierra) and easier approach than Mount Williamson (no. 2 in the Sierra), therefore it is on my high-priority list. A year ago we tried to climb Mount Sill from Bishop Pass via Dusy Basin and Palisade Basin, but aborted our attempt after running out of time mired in the endless talus fields there. This time an unexpected opportunity prompted me to make another attempt on Mount Sill: I obtained a pre-reserved wilderness permit for the North Fork Big Pine Creek area for three days from a climbing website. This was valuable because the North Fork area is very popular and walk-in free wilderness permits are often unavailable. I hadn't been to the drainage since 1995 (that's 9 years ago), and knowing the area is beautiful with stunning views of Palisade Glacier surrounded by 5 peaks higher than 14000 feet I really wanted to make a go of it. The reason I hadn't tried to climb peaks from the North Fork drainage for 9 years was the difficulty of climbing any one of these peaks: you have to overcome a long, arduous hike with a large elevation gain, cross the largest glacier in the Sierra, then climb steep rocks rated at class 4 or 5 with high danger of rock fall. There are no class 2-3 routes here to any of the peaks higher than 14000 feet.

After successfully climbing Bear Creek Spire's class 4 summit earlier this month, I have become more confident of my rock-climbing abilities. Choosing Mount Sill was easy because its North Couloir route is rated class 4, and it has the shortest approach hike (still longer than most peaks I've attempted) since it is located in the eastern part of the Palisade Glacier. This route involves crossing the southeastern part of the Palisade Glacier, climbing up Glacier Notch on class 3 rocks, ascending the North Couloir of Mount Sill on snow, climbing up class 4 rocks to the northwest ridge of Mount Sill, then class 3 rocks to the summit. Mount Sill, being the second highest peak (after North Palisade) in the Palisade group, the most alpine part of the Sierra, reputedly has the most impressive panoramic view.

On Thursday night (July 22) we drove 6 hours to Mammoth Lakes, picked up the permit from the night box at the ranger station, then camped on top of Minaret Summit near the vista point, hoping to acclimatize to its 9200 feet altitude. Friday morning, after a leisurely breakfast in Bishop we embarked on our hike at the backpacker's parking lot (elev. 7500') below Glacier Lodge in the Big Pine Creek basin. Fortunately, bear-proof canisters were not required, which means lighter backpacks for our hike in. The hike in was long and hot, especially the first 2 miles high on the south- facing slopes on the right side of the drainage. I looked forward to the series of waterfalls and multi-colored lakes that I visited 9 years ago. The lakes contain various concentrations of glacial till (fine particles of sediment carried down by the glaciers) which account for their varied colors from blue, turquoise, to aqua-marine. The series of roaring waterfalls were powerful and impressive, more so than any other drainage in the Eastern Sierra. After the initial dry stretch, the trail meanders through wooded areas frequently punctuated by lush meadows full of wildflowers such as tall tiger lillies, swamp onions, etc. The lakes were spectacular, especially Second Lake, backed by the impressive multi-turretted Temple Crag, a mountain a little shy of 13000 feet but full of long, challenging technical rock routes. A bit beyond Third Lake we took the narrow branch trail marked "Glacier Trail", which steeply ascended hundreds of feet to reach Sam Mack Meadow (elev. 11000'), a verdant basin carpeted by pink shooting stars, rimmed by high granite hills, in the middle of which a creek roars in wide, braided channels. It was after sunset, close to 8:30 pm, and I was extremely exhausted after ascending 3500 vertical feet in about 6-7 miles. We found that some choice camp spots have already been claimed, but we managed to find a flat spot nearby and called it a night.

The next morning Vlad complained of poor sleep because the camp site wasn't very level. Then we found that a few steps away there was a much flatter spot. Oh well. We had a late start and left camp after 9:30 am. We picked up the trail from the opposite side of the creek, which is supposed to continue for another mile and a half. We followed it and made quick progress. Eventually the trail peters out and we follow directions to skirt the left side of the glacial moraine, climbing through first some talus then a lot of slabs that are easy on the feet. Enroute we met quite a few people coming down from morning visits of the glacier. Soon we reached the top of the moraine and gained an impressive view of the Palisade Glacer, behind which is an amphitheatre of high peaks rising out of sheer cliffs, 5 of which soar over 14000 feet. We traversed left along talus at the base of Gayley Peak towards the saddle between Gayley and Sill, the so-called Glacier Notch. To get there we must next traverse the glacier, which we planned to do wearing crampons. An interesting tidbit of the history of my crampons is that they had never been used prior, and they were designed to fit plastic mountaineering boots that I don't own. I rigged a strapping mechanism to secure these crampons onto my regular hiking boots, then took my first steps ever in a pair of crampons. The snow on the glacier was quite firm and steep, the crampons made the ascent much easier and less risky. It didn't take long for us to traverse the short stretch of the glacier to the bottom of Glacier Notch, where we took them off and started climbing the steep class 3 rock. This part of the route contained much loose debris, making my every move more tentative. It took me quite a long time to climb to the top of Glacier Notch, in fact we climbed a variation on the right side and ended up much higher than the usual route. This was no problem, however this part of the ascent sapped a lot of energy from me due to the exposure and rock fall risks. It was after 3 pm and now I got my first look at the upper part of the North Couloir route. Mount Sill's summit loomed very high above, and the North couloir looked steep and intimidating. I realized that I couldn't complete the route without taking too much time, which will be dangerous since we would then have to descend after sundown. With the most difficult class 4 climbing still ahead the risk was too great. I decided to let Vlad go ahead to the summit, since he's a much faster climber and still had much energy. We decided to communicate by walkie-talkies, and I pointed out to him in detail the remainder of the route according to literature. While Vlad was gone I rested at the bottom end of the snowfield (~~13300'), enjoying the sun and the beautiful views. At one time I heard climbers yelling "rock" above, and saw some rocks tumbling down the snowfield, although never getting near where I was. There were also more than a dozen climbers descending. Through the walkie-talkie I heard that Vlad waited for these climbers at the class 4 ledge system which only allowed one person to pass at a time. Once he was on the final stretch he encountered difficult class 5 rock, which I advised him to avoid by climbing further to the right. My (blind) advice turned out to work, and Vlad made it to the summit shortly after. Around 6 pm I felt increasingly cold and decided to move about. I started to descend toward the low point of Glacier Notch, where I saw all descending climbers went. At the saddle I waited, until Vlad showed up around 7 pm. Vlad was exhausted, and lacked motivation to descend. I insisted on going faster since we want to make it as far down as possible while the sun was still up. Descending Glacier Notch turned out fairly easy on the usual route compared to the variation we took on the way up. Next we managed to traverse the glacier without crampons, now that the snow is much softer. On the initial steeper stretch of snow however, I ended up sliding down on my butt as I couldn't resist the momentum. The sun decided to set while we retraced our steps along the top of the moraine, then down to the slabs. We were able to follow cairns every 100 feet or so here, which kept us on track. Vlad felt tired and wanted to rest, but I exhorted him to keep going. I realized that my memory of the ascent journey was not detailed enough for the purpose of route-finding on descent, luckily Vlad was able to fill up some of the memory gaps. We managed to find the beginning of the trail without much trouble below a 15 foot high cliff where we rested earlier and met a descending girl. Following the trail didn't turn out to be that easy, however. At one point we lost the trail, searched around in different directions, and finally found the trail after 15 minutes. The trail here through a lot of talus and slabs tend to change its appearance dramatically, making it much harder to follow at night. Later on we were able to follow the trail without problems, and reached our camp site at 11:30 pm. Then I realized that I had lost my ice axe during the descent, which I must have failed to pick up during one of the rest breaks. On Sunday we packed up the camp at Sam Mack Meadow and hiked out, taking a total of 3 and a half hours. Along the way I discovered the fragrance of wild roses on the road side, so sweet in the mountain breeze.